Bears vs. Rams live score, updates, highlights from NFL 'Sunday Night Football' game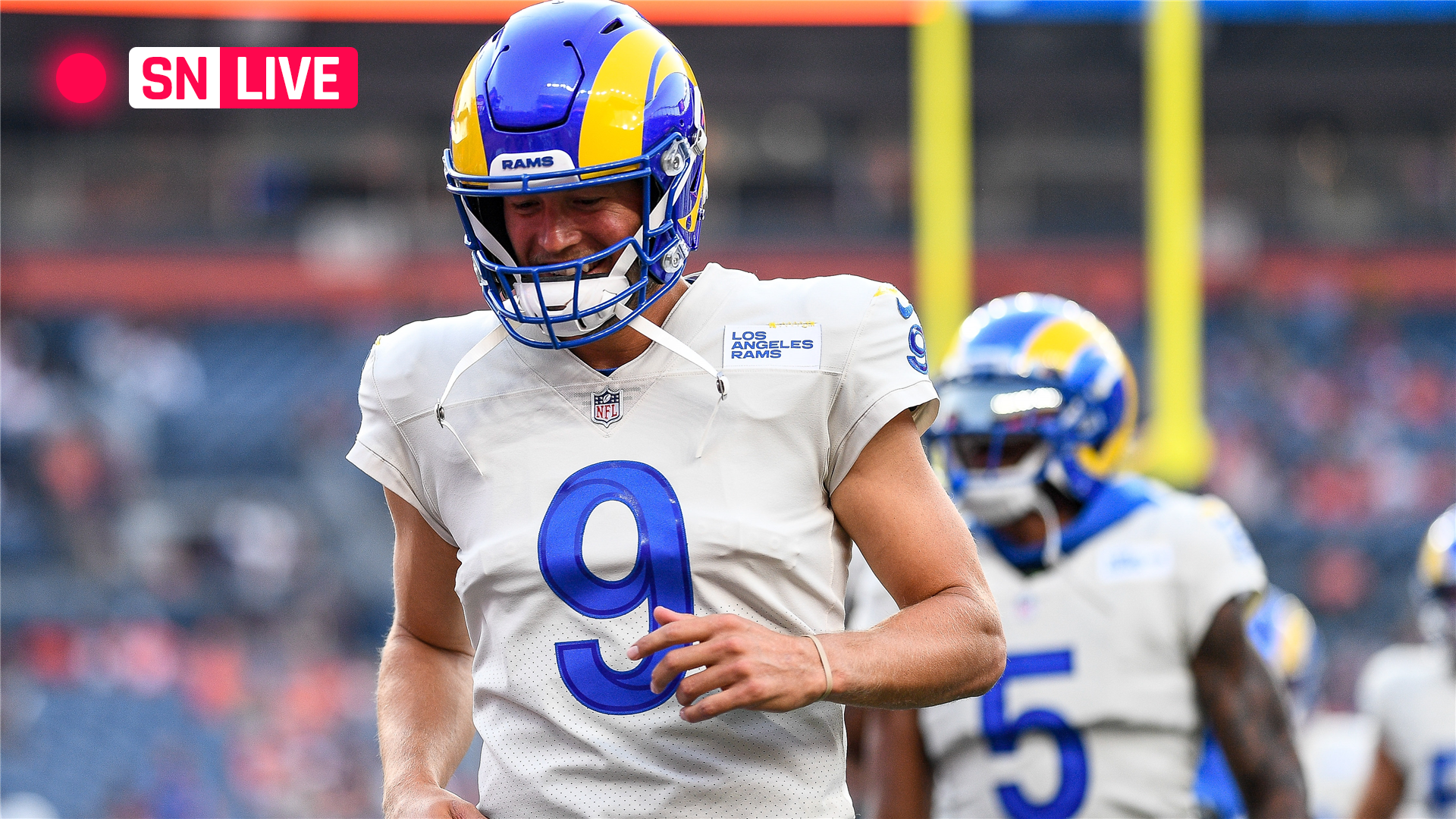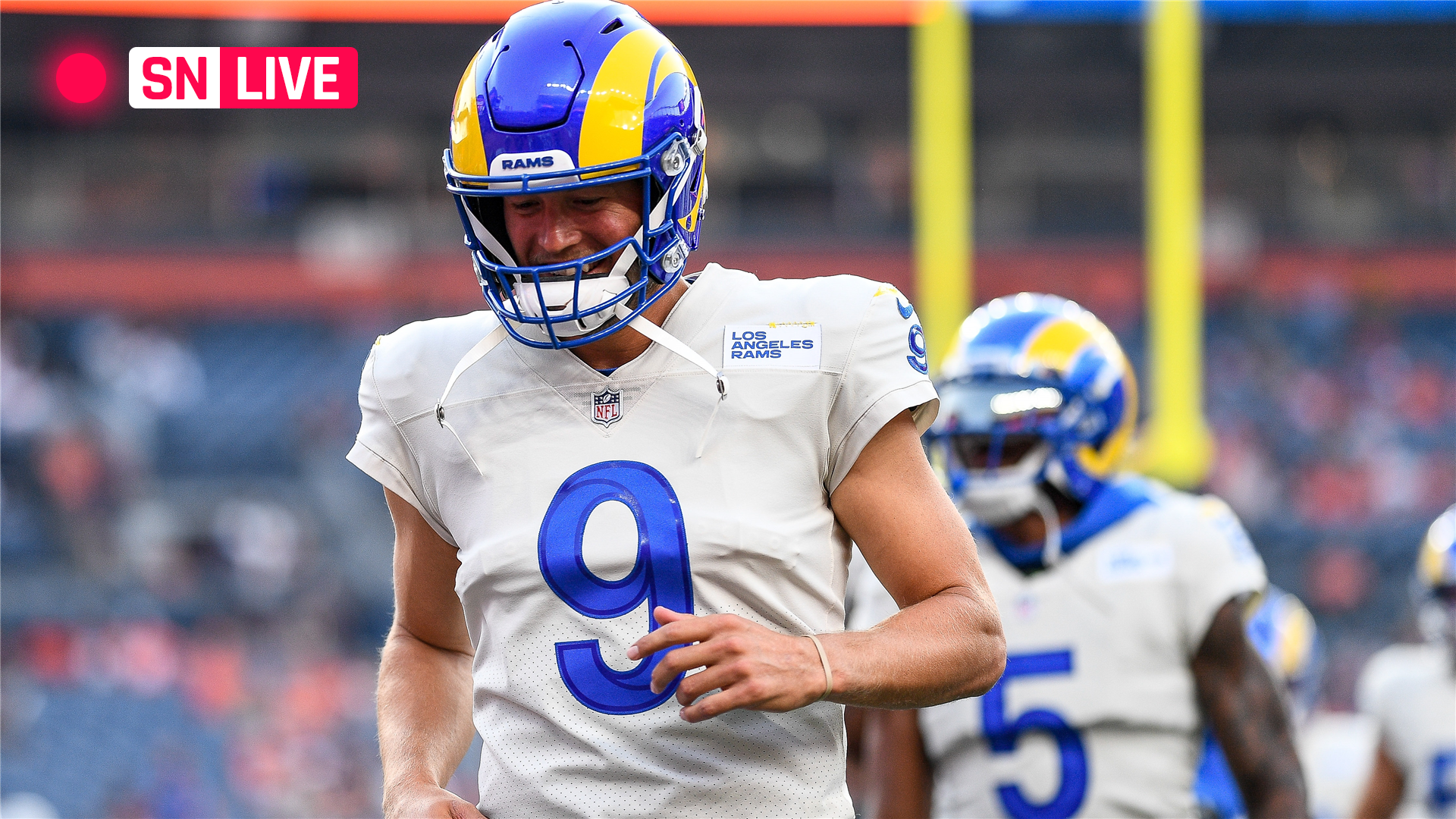 Neither Matt Stafford nor Andy Dalton has had much success in the playoffs over the past decade.
Now, after a change of scenery for both, the quarterbacks are hoping for a reversal of fortune.
Stafford was traded to a young, dynamic Rams team this offseason for Jared Goff, while Dalton signed with the Bears after filling in nicely for an injured Dak Prescott with the Cowboys last season.
FANTASY: Is Darnell Mooney playing Sunday night?
There was no doubt Stafford would start for the Rams, whose offense has good individual players such as Cooper Kupp, Robert Woods and Tyler Higbee but has been pedestrian overall. Still, the Rams won 10 games a year ago, something Stafford hasn't done since 2014.
Dalton, however, was a question mark to start after the Bears took Ohio State standout Justin Fields 11th overall in this year's NFL Draft.
MORE: Bears sheltering Fields behind Dalton
But after two preseason games, Bears coach Matt Nagy named Dalton the starter over Fields, a move to which Bears fans didn't take kindly.
Sporting News is tracking live scoring updates and highlights from Bears vs. Rams on "Sunday Night Football." Follow below for complete results from the Week 1 NFL game.
Watch Bears vs. Rams live with fuboTV (7-day free trial)
Bears vs. Rams score
| | | | | | |
| --- | --- | --- | --- | --- | --- |
| | Q1 | Q2 | Q3 | Q4 | F |
| Bears | 0 | 7 | – | – | – |
| Rams | 7 | 6 | – | – | – |
Bears vs. Rams live updates, highlights from 'Sunday Night Football'
10:02 p.m.: Dalton and the Bears are marching down the field and are on their own 49 facing first-and-10, but Dalton just throws it away.
9:59 p.m.: The Bears convert on third-and-3 from their own 26 and Robinson grabs it for seven yards as the Bears look to respond the Rams' early quarter score.
9:55 p.m.: TOUCHDOWN RAMS. Stafford heaves it down field again for the score and finds a wide open Cooper Kupp for 56 yards. A four-play, 75 yard drive that takes just 1:08 and its a two-score game again. Rams 20, Bears 7.
9:53 p.m.: For the first time on four attemtps, the Rams convert on third down from their own 25, as Stafford finds Robbert Woods for 19 yards and an easy first down.
9:51 p.m.: The Rams start with the ball for the second half and being at their own 25.
Halftime: Rams 13, Bears 7
9:51 p.m.: Another halftime note: David Montgomery joined legendary company with his touchdown run — he becomes the first Bear since Walter Payton to rush for a touchdown in six straight regular season games.
9:41 p.m.: Some halftime stats:
The Bears have 12 first downs to the Rams' six and have run 34 plays on offense to the Rams' 21, but it's the Rams who seem to be making the most of their possessions, averaging 7.3 yards per play and 10.1 yards per pass.
It's also been a fairly disciplined game by both sides, with the Bears taking just one penalty for five yards and the Rams taking two for 16.
Both turnovers have come from the Bears, who also have 89 yards on the ground compared to just 12 for the Rams.
9:37 p.m.: After an opening three-play, 80 yard drive on their first offensive series, the Rams are held in check for most of the rest of the first half as they head into the locker room up six.
9:32 p.m.: TOUCHDOWN BEARS. David Montgomery's big night continues with a 3-yard touchdown, his first of the year. 89 yards on 11 carries so far for the Iowa State product. One score game with 34 seconds in the first half. Rams 13, Bears 7.
9:31 p.m.: Dalton makes a play with his legs and scrambles for nine yards. Brings up third-and-1 on the Rams' 3.
9:27 p.m.: The two-minute warning arrives with the Bears facing second-and-7 on the Rams' 20. It's their second time in the redzone tonight; the first time resulted in an interception in the endzone from Dalton.
9:26 p.m.: Dalton and the Bears are marching so far, as he hits Allen Robinson for 9 yards and a first down nearing the redzone.
9:25 p.m.: David Montgomery has 71 yards so far with 4:12 left in the first half on just six carries. An efficient night and the Bears have first-and-10 at the Rams' 35.
9:20 p.m.: Johnny Hekker comes on to punt for the Rams from their 9-yard line and the Bears will take over at their 45 with 4:42 left in the second.
9:19 p.m.: Stafford is sacked for the first time tonight and gets driven back to the Rams' 2-yard line and setting up third-and-18.
9:14 p.m.: The Bears opt to punt after a three-and-out on the Rams' 47 yard line. The first time tonight the Bears have punted and the Rams take over at their 11-yard line.
9:11 p.m.: Dalton hits Darnell Mooney for nine yards and the first down on the Bears' 35. Follows that up with a nice throw to the Bears' 42 after hitting Marquise Goodwin for seven yards.
9:07 p.m.: RAMS FIELD GOAL. Gay is 2-for-2 on the night, nailing the 22-yard chip shot and pushing the Rams' lead to 13 with 11:39 left in the second. Rams 13, Bears 0.
9:06 p.m.: The Bears force the Rams to settle for a field goal attempt after the Rams make it to the Bears' 4-yard line and will try and limit the damage.
9:03 p.m.: Van Jefferson with his second catch of the night rolls out on the play action pass for 13 yards to pick up the first down and convert it easily. Rams into the redzone a minute into the quarter.
9:02 p.m.: It's fourth-and-1 on the Bears' 32-yard line and the Rams ine up to go for it and then call a timeout.
9:00 p.m.: The Rams use wide receiver Robert Woods out of the backfield to open the quarter and he takes it seven yards to make it third-and-1 and on the Bears' 32.
End first quarter: Rams 10, Bears 0
8:57 p.m.: The first quarter draws to a close with the Rams up 10-0 and facing second-and-8 on the Bears' 39-yard line.
8:55 p.m.: The Bears go for it again on fourth down and come up short once again. Second turnover on downs for the Bears and the Rams take over at their own 41 yard line.
8:54 p.m.: Fields' second stint is short lived and Dalton hits Damiere Byrd for 11 yards on third-and-14.
8:52 p.m.: The Bears get bailed out and gain 34 yards on a 19 yard completion to Marqise Goodwin and then a 15-yard penalty. Fields comes back out for the Bears on the first down play from their own 41.
8:48 p.m: RAMS FIELD GOAL. Gay nails the 53-yarder as it hugs the left upright and makes it a two score game early. Rams 10, Bears 0.
8:47 p.m.: Stafford looks for Jefferson again on third-and-five and airs it out down field but comes up short to bring up fourth-and-5. Rams call on Matt Gay for the 53-yard attempt.
8:45. p.m: 13-year veteran wide receiver DeSean Jackson snags an 18-yard pass, his first as a Ram to set up a first down.
8:40 p.m.: The Bears' second drive of the game results in fourth-and-4 on the Rams 41 and they turn it over on downs after Jalen Ramsey breaks up the pass intended for Allen Robinson. Rams start at their own 41.
8:37 p.m.: Bears feeding Montgomery early to start the game. Two carries for 55 yards for the Iowa State product so far.
8:32 p.m.: TOUCHDOWN RAMS. On just their third play of the season, the Rams find the endzone after a running Stafford hits Van Jefferson on his second pass attempt for a 67-yard touchdown. Rams 7, Bears 0. That drive was just three plays and took just 1:18, but went 80 yards. Great start for the Rams.
8:32 p.m.: Stafford's first pass as a Ram goes to tight end Tyler Higbee for an early first down.
8:28 p.m: RAMS INTERCEPTION. On third-and-6 from the Rams' 8-yard line, Dalton's pass is tipped and intercepted in the endzone immediately after a timeout. The Rams will start the Matt Stafford era at the 20-yard line.
8:26 p.m: Justin Fields enters the game in the redzone on the Rams' 12-yard line and fires it for nine yards to set up third-and-1 on the Rams' 3-yard line, but they get pushed back on a false start.
8:24 p.m.: After a 50 yard return to open the game, the Bears get a 41 yard gain right off the bat on a David Montgomery run.
8:23 p.m.: The Rams win the toss and defer, giving the Bears the ball to start.
8:20 p.m.: The Bears opted to start longtime veteran and three-time Pro-Bowler Andy Dalton ahead of touted rookie Justin Fields. But if history is any indication, Dalton may struggle tonight, as he's done during Sundays past.
Sunday Funday Fact: Bears QB Andy Dalton is 0-6 in his career on Sunday Night Football. He's thrown 10 touchdowns and four interceptions on SNF while completing 58.4 percent of his passes.

— Kevin Fishbain (@kfishbain) September 12, 2021
8:15 p.m.: Every NBC analyst picks the Rams to win this game in SoFi Stadium. Big emphasis rightly placed on Aaron Donald and Khalil Mack, two of the league's marquee defensive linemen. Both will be big factors tonight.
Bears vs. Rams start time
The Bears vs. Rams game on "Sunday Night Football" is scheduled to start at 8:20 p.m. ET. It will cap the first full Sunday of action in the 2021 NFL season.
'Sunday Night Football' schedule 2021
| | | |
| --- | --- | --- |
| Week | Date | Matchup |
| 1 | Sept. 9 (Thu.) | Tampa Bay Buccaneers vs. Dallas Cowboys |
| | Sept. 12 | Los Angeles Rams vs. Chicago Bears |
| 2 | Sept. 19 | Baltimore Ravens vs. Kansas City Chiefs |
| 3 | Sept. 26 | San Francisco 49ers vs. Green Bay Packers |
| 4 | Oct. 3 | New England Patriots vs. Tampa Bay Buccaneers |
| 5 | Oct. 10 | Kansas City Chiefs vs. Buffalo Bills |
| 6 | Oct. 17 | Pittsburgh Steelers vs. Seattle Seahawks |
| 7 | Oct. 24 | San Francisco 49ers vs. Indianapolis Colts |
| 8 | Oct. 31 | Minnesota Vikings vs. Dallas Cowboys |
| 9 | Nov. 7 | Los Angeles Rams vs. Tennessee Titans |
| 10 | Nov. 14 | Las Vegas Raiders vs. Kansas City Chiefs |
| 11 | Nov. 21 | Los Angeles Chargers vs. Pittsburgh Steelers |
| 12 | Nov. 28 | Baltimore Ravens vs. Cleveland Browns |
| 13 | Dec. 5 | Seattle Seahawks vs. San Francisco 49ers |
| 14 | Dec. 12 | Green Bay Packers vs. Chicago Bears |
| 15 | Dec. 19 | Tampa Bay Buccaneers vs. New Orleans Saints |
| 16 | Dec. 26 | Washington Football Team vs. Dallas Cowboys |
| 17 | Jan. 2 | Green Bay Packers vs. Minnesota Vikings |
| 18 | Jan. 9 | TBD |