Free Pick for Monday Night Football
Steelers -6.5 over Bears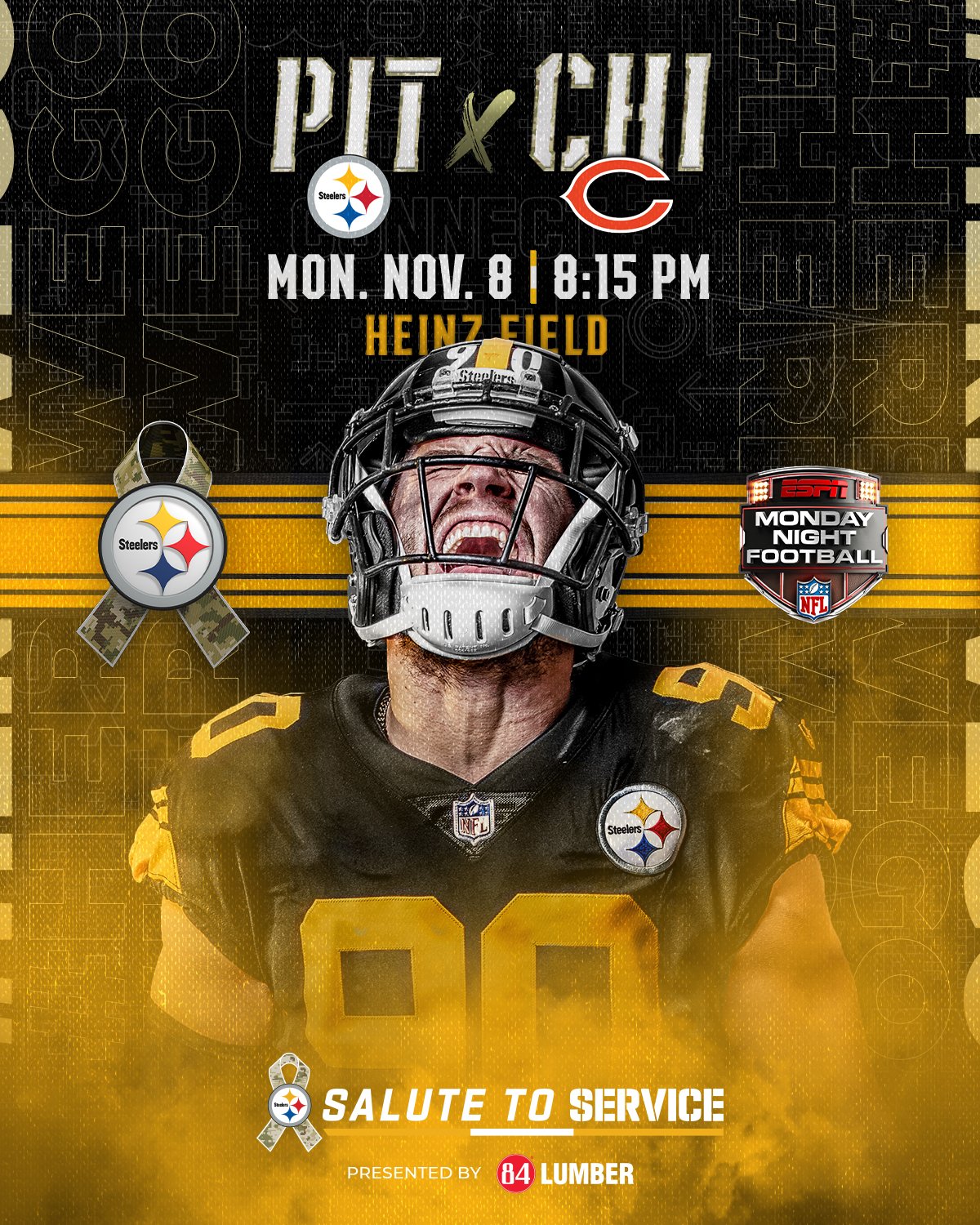 Twitter: @steelers
Week 9 of the NFL season comes to a close tonight as the Bears (3-5) take on the Steelers (4-3). This is a case of two teams heading in opposite directions. Chicago has lost three straight games while Pittsburgh has won three in a row!
Let's break down each team on both sides of the ball to show you why we think Pittsburgh is the correct side to take in Monday Night Football!
Chicago Offense vs. Pittsburgh Defense
Bears QB Justin Fields has an amazing skill set but he's going through some rookie growing pains. Fields has shown flashes of greatness, but he's also thrown 7 picks already this season. It doesn't help matters that the Bears O-Line is ranked dead last in the NFL in pass protection!
Pittsburgh's defense has been inconsistent at times this season. However, they do an amazing job of pressuring the QB, as they rank 5th in the NFL in sack percentage. The leader of this defense continues to be T.J. Watt, who has recorded 8.5 sacks already this year. We expect the Bears to double team Watt for most of this game to try and slow down his pass rush.
Pittsburgh Offense vs. Chicago Defense
Pittsburgh has gotten off to a slow start this year on the offensive side of the ball. The Steelers rank 26th in yards per play and 28th in yards per rush. This team has to run the ball more effectively if they expect to make a deep playoff run.
Veteran QB Ben Roethlisberger has thrown for 1,781 passing yards and 8 TDs but he can't push the ball down the field like he used to. Big Ben brings a ton of leadership to this offense though and he doesn't turn the ball over very often. Rookie tailback Najee Harris is starting to look more comfortable in the offense as he has rushed for 479 yards and 3 TDs.
Chicago's defense just isn't what it used to be. Khalil Mack is still a beast at linebacker but everyone else on this unit is having an underwhelming season, except for Robert Quinn. Chicago ranks 22nd in yards per play allowed and 24th in yards per pass allowed.
We see Najee Harris making a few big plays in the running game and T.J. Watt coming up with a couple of big sacks of Fields. Lay the 6.5 with the Steelers tonight to end your week with a winner! Best of luck!