Free CFB Pick for Thursday 11/11
Pittsburgh Panthers -6.5 over North Carolina Tar Heels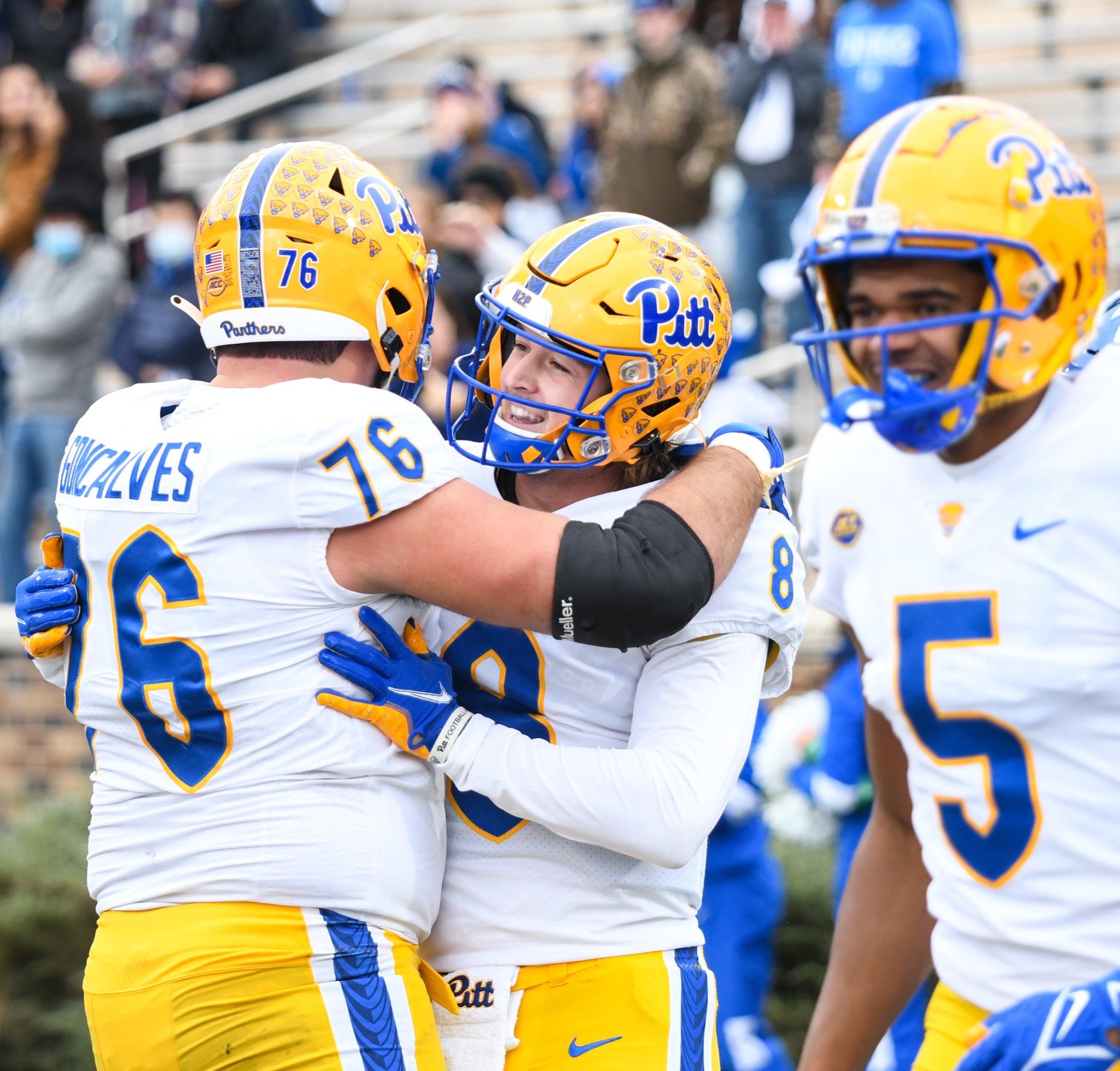 Twitter: @Pitt_FB
Our free CFB pick on the Under in the Toledo / Bowling Green game went down in flames early. After betting on sports for 20 years, we still make mistakes at times.
Our power rating had a play on Toledo but we didn't want to lay double digits on the road! Oh well, Mama said there'd be days like this and she wasn't wrong! That brings our CFB Record to 3-3. Time to get back in the black!
We love the Pitt Panthers to take care of business at home tonight against North Carolina! Here are a few reasons why we're betting on Pitt.
1. Spot
This is an awful spot for UNC. They are coming off an emotionally draining victory over #9 Wake Forest last week. They trailed by 18 but pulled off a miraculous comeback! We are betting that the Heels come out a bit flat for Pitt since it's hard to get up for 2 games in a row!
Pitt had a relatively easy win over Duke by 25 points last week. They didn't have to expend a ton of emotional energy so they'll be fired up for a Thursday Night Primetime game!
2. Pitt's Rush Defense
UNC's main strength is their rushing offense as they average 5.3 yards per rush (14th in the country). Both Sam Howell and Ty Chandler racked up a ton of yards against a porous Demon Deacons defense last Saturday. The sledding will be much tougher against a very good Pitt Front 7.
The Panthers only allow 3.2 yards per rush, which ranks 11th in the land. This unit also only allows 109 rushing yards per game (14th). Pat Narduzzi's defense should be able to limit UNC's greatest offensive strength, so that's a huge matchup advantage for Pitt.
3. Pass Protection
Though UNC has an explosive offense, their O-line does an atrocious job of protecting the QB. Poor Sam Howell has been running for his life for most of the season and this game should be more of the same.
UNC allows a sack on 10.86% of snaps, which ranks 121st in the country. That's not going to go over well against a Pitt defense that ranks 14th in sack percentage (9.12%). UNC will move the ball through the air at times, but look for Pitt to register plenty of sacks to stifle several of their drives.
4. UNC's Awful Defense
Pitt QB Kenny Pickett should have a field day against this terrible UNC secondary. The Panthers average 8.9 yards per pass (18th) while the Heels allow 7.6 yards per pass (79th). We expect Pickett to pick this defense apart like a precise surgeon!
The Heels are even worse at stopping the run, as they rank 97th in the country in yards per rush allowed (4.7). Pitt isn't much of a running team but they should find a little bit of success tonight against the Heels weak Front 7.
5. Special Teams
Pitt has one of the most accurate field goal kickers in the country in Sam Scarton. This kid has made 12 of his 13 FG attempts this season and 47 of 48 extra points.
Grayson Atkins has done okay for UNC but he's only hit 11 of his 15 FG attempts (69th).
Wrap Up
We see the Panthers coming out fired up and taking an early lead in this game. The Heels have a great offense so they'll keep it close for a while.
In the end, though, we think the Pitt defense will get more stops and Pickett will have a big day throwing the ball. Our power ratings made this line closer to Pitt-10 so we'll say the Panthers win 38-28. Lay the points! Good luck with all your Thursday action!