Free CFB Pick for Wednesday 11/17
Woooohooo! Feels nice to get back in the win column as our Free CFB Pick on Eastern Michigan +6 wins the game Outright over Western Michigan! That brings our CFB record back to .500 at 5-5. Let's get back in the black tonight with another Wednesday MACtion selection!
Northern Illinois (-120) over Buffalo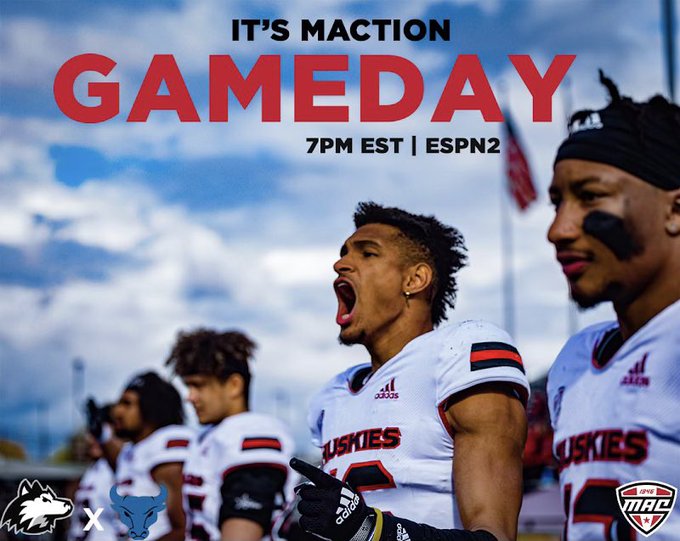 Twitter: @NIU_Football
We're playing this one on the moneyline but laying 1 or 1.5 is fine as well. We love the Huskies to get the job done over the Bulls tonight. Our power ratings make this line Northern Illinois (-6) so this is a must-play for us.
Buffalo misses the leadership of their former head coach Lance Leipold, who took the Kansas job in the offseason. The Bulls have been wildly inconsistent the entire season, even against marginal competition. The Huskies, on the other hand, keep finding ways to win and could end up in their 1st MAC Championship Game since 2018.
Let's first look at each team's record and strength of schedule. The Huskies are a respectable 7-3 while the Bulls have stumbled to a 4-6 mark. NIU has played the 91st toughest schedule while Buffalo has played the 122nd toughest. That's a huge edge for the Huskies.
NIU has the better overall offense, as they average 5.6 yards per play while Buffalo only averages 5.3. The Huskies' main edge, however, is in red-zone offense, as they rank 2nd in the nation in red-zone scoring percentage. The Bulls rank 40th in that same category. So, the Huskies know how to cash in once they're inside the 20 while the Bulls are about average.
Both of these defenses suck, but we think NIU can get a few more stops in this one. Buffalo does have the much better pass rush but NIU does a pretty good job of protecting the QB.
Another big edge for NIU is at kicker. John Richardson has made all 26 of his extra points this year and has only missed 2 field goals. As a team, the Huskies rank 14th in field goal conversion percentage.
Buffalo has struggled in the kicking game all year long. The Bulls have only made 56.25% of their field goals this season, which ranks 118th in the nation. Alex McNulty has made all of his extra points but has missed 7 field goal attempts so far.
We see NIU coming out with a focused effort on the road tonight. With a win tonight, the Huskies would be one step closer to a MAC Western Division Title. Buffalo doesn't have nearly as much to play for in this spot. Let's play NIU tonight in the MACtion! Good luck!