Free CFB Pick for Saturday 11/20
Both of our Free CFB Picks lost last night! Our 2 Unders both went down in flames last night. We still can't believe the Air Force / Nevada game went Over. It took 3 overtimes to beat us so that was a bit unlucky. Oh well, we're still 3-2 on the week and will look to build on that tonight!
Utah Utes -3 over Oregon Ducks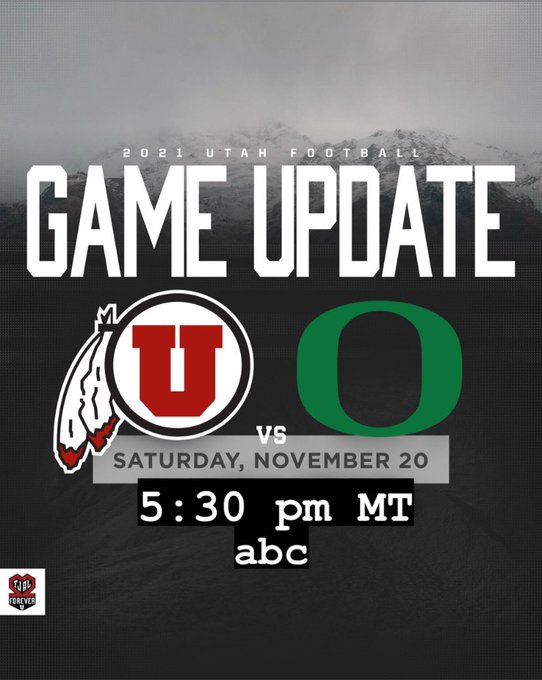 Twitter: @Utah_Football
Be sure to shop around and grab the -3 on this one as plenty of shops still have that key number available. We think tonight is the end of the line for the Ducks. Utah's home field advantage is HUGE this time of year and we aren't sold on Oregon. Here are a few other reasons to take the Utes tonight.
Revenge Spot
This is a humongous revenge game for Utah. Back in 2019, Oregon ruined Utah's season by beating them in the conference title game 37-15. Though that was two years ago, lots of players on the Utes' roster still remember that vividly. You can bet that head coach Kyle Whittingham will remind his players of that embarrassing loss.
Strength of Schedule
We have to give the Ducks credit for their amazing road win in Week 2 over the Ohio State Buckeyes. However, the Ducks haven't really played any stiff competition since then. Oregon has only played the 63rd most difficult schedule this season while Utah has played the 36th toughest schedule. The Utes are more battle-tested so they'll get it done at home.
Pass Rush
These defenses are both pretty stout and have similar strengths. However, one big edge the Utes have is their pass rush. Utah ranks 19th in the country in sack percentage while Oregon only ranks 92nd in that category. Oregon doesn't like to throw the ball much but when they do, Anthony Brown could be under a lot of stifling pressure.
Game Plan
We admire the season that Oregon has had but they are a bit of a one-trick pony. They run the ball exceptionally well but Brown isn't much of a passer. Look for the Utes to stack the box and try to make Brown beat them through the air. We're not sure he can do that. Also, on the coaching front, we trust Kyle Whittingham quite a bit more than we do Mario Cristobal.
To wrap up, we think the Utes find a way to win by 7 or more tonight at home. This line flat-out stinks! Why is the #3 ranked team in the country an underdog???
It's because the books aren't believers in the Ducks and are begging for Oregon money! Don't fall for the trap, lay the small number with Utah! Best of luck with all your Saturday action!