Free CFB Pick for Thanksgiving Day 11/25
We started our CFB week off right with a nice 2-0 sweep in the MACtion on Tuesday. We wanted to post an NFL Free Pick for Turkey Day but just couldn't find any value between our numbers and the sportsbooks numbers.
Sometimes the best bets are the ones you don't make! Never bet on a game just because it is on TV! All that being said, we did find a nice spot for our Free CFB Pick for Thanksgiving Day!
Mississippi State ML (-120) over Ole Miss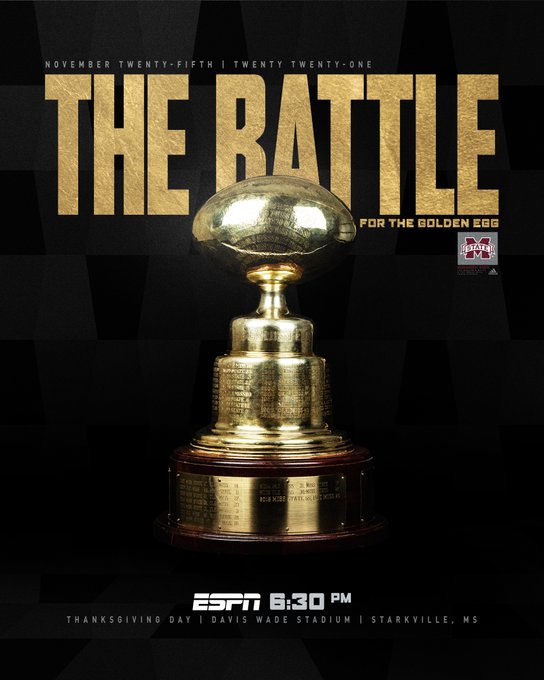 Twitter: @HailStateFB
Ahh yes! The Annual Egg Bowl, one of the greatest rivalries in all of college football. We are taking the moneyline in this one but if you want to lay -1.5 we're fine with that too.  This game should fit in nicely Thursday evening after a long turkey coma. Here's why we love Miss State in this spot.
1. The Line
Remember our thoughts on Utah last Saturday night? Our thinking is similar for this matchup. The sportsbooks are screaming for Ole Miss action on this game.
Why is the #12 ranked team (Ole Miss) an underdog to the #25 ranked team (Miss State)? Just like all of our mothers taught us, "If it looks too good to be true, it probably is."
We aren't big proponents of always fading the public and all of that mumbo jumbo. However, the one instance we love fading the public is when they are loaded up on the underdog!
This fits that criteria to a T. As of this writing, 65% of the tickets and 80% of the money is coming in on the Rebels. Looks and smells like a trap!
2. Too Many Ole Miss Distractions
While the Rebels have the better stats, they've got lots of distractions working against them. Rumors are swirling that Lane Kiffin may take a new job at either LSU, Miami, or Florida. That's the last type of news Ole Miss needs this week while preparing for their hated intrastate rival.
Another surprise distraction came earlier this week when QB Matt Corral announced he was leaving to enter the NFL Draft after this season. Why in the world didn't he wait one more week to drop that stink bomb? With those 2 off the field things going on, you have to wonder where the Rebels players' heads will be at.
3. Bulldogs Have the Better Defense
We love taking the team with the better overall defense, especially in a rivalry game.
The Ole Miss defense has improved quite a bit but they still aren't that great. The Rebs are 61st in yards per play allowed and 58th in yards per pass allowed. Miss State head coach Mike Leach should find plenty of ways to exploit the Rebels' defensive holes.
Miss State's defense is below-average against this pass but they are terrific at stopping the run. We think Miss State will be able to make Ole Miss one-dimensional in this game. Mississippi State ranks 8th in rushing yards allowed per game so Jerrion Ealy and Corral shouldn't be able to get much traction on the ground.
We see Mississippi State coming out with a fired-up and focused effort in this game, especially since they lost last year's matchup by 7 points. This game should be fun to watch but we think the Bulldogs will prevail in the end.
Happy Thanksgiving to all of you who read our Daily Free Pick column. We are grateful for you and hope you have a wonderful holiday weekend. Best of luck with all your Turkey Day action!