Free CFB Pick for PAC 12 Title Game
Oregon plays Utah at Allegiant Stadium in Las Vegas for the PAC 12 Title Game tonight at 8:00 EST. These two teams met just a couple of weeks ago, with the Utes absolutely embarrassing the Ducks to the tune of 38-7. Here is our Free CFB Pick for this matchup.
Oregon Ducks +3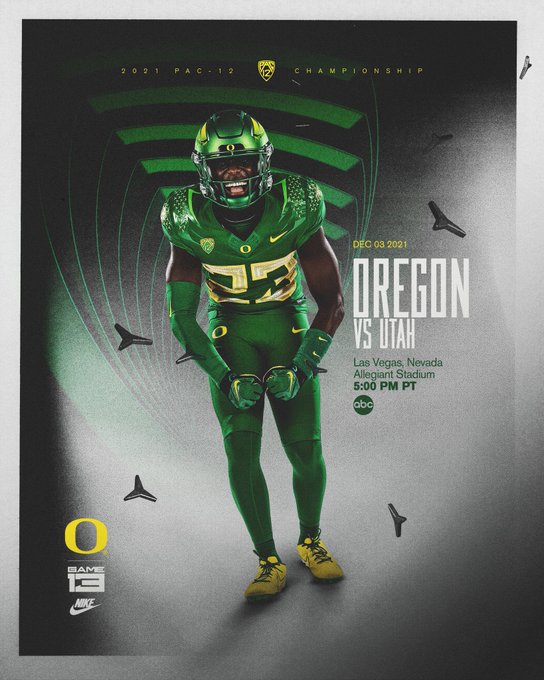 Twitter: @oregonfootball
Sure, we cashed a nice winner on Utah-3 with a Free CFB Pick back on 11/20. However, we feel like the Ducks are the right play tonight for a variety of reasons.
1. Spot
This is a fabulous revenge spot for Oregon, as they would like nothing more than to get back at Utah. That loss cost the Ducks a shot at the College Football Playoff so they'll be fired up to win this game. Though there's no mathematical way to quantify revenge, it's got to be worth a point or two of value.
2. Value
Speaking of value, how is this point spread the exact same as it was 2 weeks ago? Utah deserved to be a 3 point favorite during the 1st meeting because they were at home with a rowdy crowd.
This game is being played on a neutral field so the crowd should be closing to a 50/50 split. With that in mind, we think this line should be closer to a pick 'em instead of -3. Tons of value on the Ducks in our opinion.
3. Anthony Brown
Brown had a rough game against Utah a couple of weeks ago but he rebounded nicely against Oregon State last week. The former BC star was 23 of 28 for 275 yards and 2 TDs in helping the Ducks win the Civil War game. That shot of confidence was just what Brown needed and we expect him to stay hot in this game against Utah.
4. Slightly Better Rush Defense
While both rush defenses are above average, Oregon's is a little bit better than Utah's. The Ducks rank 19th in the nation in yards per rush allowed while the Utes rank 48th. Oregon also ranks 21st in rushing yards allowed per game while Utah ranks 32nd.
5. Kicking Game
In what should be a tight game, the kicking game is of even more importance. Oregon's kicker Camden Lewis has made 11 out of 13 field-goal attempts this season. He's also made 51 of 52 extra points.
Utah has had trouble in the kicking game the entire season. Jason Redding has hit 8 of his 12 field goal attempts while Jordan Noyles has only hit 2 of 4 field-goal attempts.
Give us the team who wants revenge and doesn't have to deal with a rowdy crowd this time. Take the points but the Ducks may win this one outright! Best of luck with all your Friday action!