Free NFL Pick for Monday Night Football
Need a Free NFL Pick for Monday Night Football? Check out our pick with some analysis below. We cashed with our pick last Monday night so let's do the same this week!
New England Patriots +3 (-120) over Buffalo Bills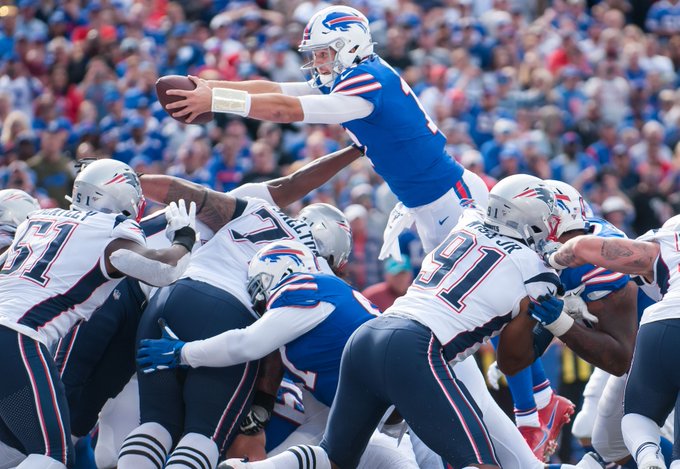 Twitter: @BillsBackersYVR
This should be a fantastic football game with two of the best teams in the NFL squaring off. The Patriots are 8-4 and are without a doubt the hottest team in the league right now. The Bills are 7-4 but have had an up and down type of season so far.
Our power ratings say this line should be closer to a pick 'em so we are rolling with the Patriots in this one tonight. Here are a few things we like about the Pats in this spot.
1. Current Form
The Bills may have statistical advantages in lots of key areas, but the Pats are in much better current form. Since losing to the Cowboys in OT back in Week 6, New England has rattled off 6 straight wins. All those of those wins have been in blowout fashion except for the Pats' 3-point win over the Chargers back in Week 8.
2. Pass Rush
Buffalo has a fabulous defense against both the run and the pass. However, New England is much better than Buffalo at pressuring the QB. The Bills D only rank 24th in sack percentage while the Pats D ranks 7th.
Linebacker Matt Judon has been basically unblockable for NE this season, as he's racked up 11.5 sacks! We believe Belichick will dial up plenty of creative blitz packages to make Josh Allen uncomfortable. There's no way the best coach of all time is going to let Allen just sit in the pocket with plenty of time to throw.
3. Turnovers and Penalties
Both of these teams are great at creating turnovers but the Bills lost one of their best corners, Tre'Davious White, to a torn ACL. That's a huge loss for Buffalo and their secondary will suffer a lot from it. The Patriots DBs are some of the best in the league at picking off passes.
J.C. Jackson leads the Pats with 7 INTs and Adrian Phillips has 4 INTs. It wouldn't surprise us if one of these guys comes up with a key pick at just the right time for this defense.
NE also has the edge in penalties, as they are much more disciplined than BUF in that category. The Pats rank 7th in penalties per game while the Bills rank 28th. This could come back to bite the Bills in this game.
We think New England wins a low-scoring tight game tonight. Our final score prediction is New England 20 Buffalo 17.
Take the points and sprinkle the moneyline! Best of luck with all your Monday action!