We lost our Free NFL Pick on the Over last night between the Patriots and Colts. Jonathan Taylor gave us a chance with his late TD but the Pats offense just couldn't get a late field goal to send it Over the total. Let's bounce back with our Free NFL Pick for Sunday.
Green Bay Packers / Baltimore Ravens OVER 43.5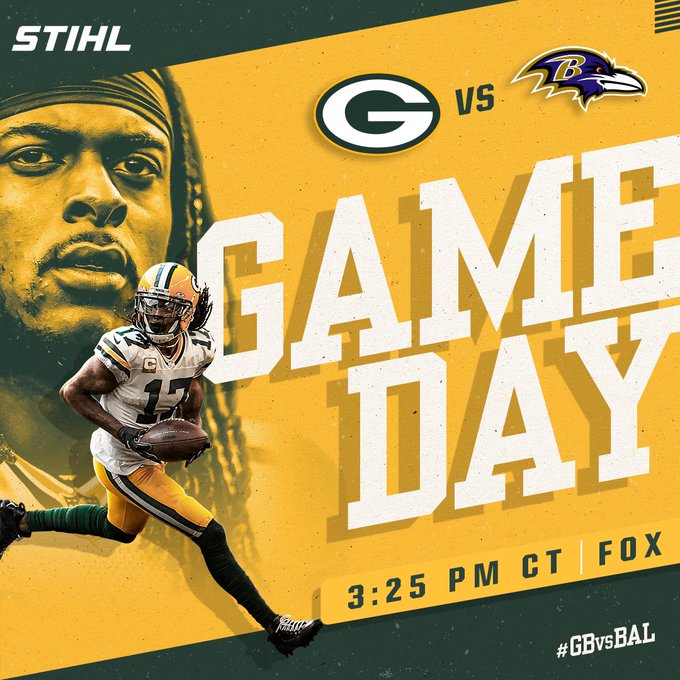 Twitter: @packers
Yes, we know that Lamar Jackson is banged up and that's why this total is so low. However, Tyler Huntley looked just fine against a pretty good Browns defense last Sunday.
The former Utah star went 27 of 38 for 270 yards and 1 TD in a valiant comeback effort that ended up being just 2 points short. Huntley has a skillset that is similar to Jackson's so the Ravens' offense may have more success than most folks expect.
Baltimore is a running team and they do it quite well as evidenced by their 4.6 yards per rush average (6th in the NFL). The Ravens should find plenty of success against a Packers defense that ranks 22nd in yards per rush allowed. Devonta Freeman and Latavious Murray could each do a fair amount of damage and hopefully score a TD or two.
Aaron Rodgers has been struggling with a toe injury but you'd never know it by how he's been playing lately. The Packers' offense has been rolling along brilliantly over their last 3 games by putting up 31, 36, and 45 points. We don't see why Green Bay can't put up at least 30 points against this decimated Baltimore secondary.
The Ravens do a great job of stopping the run but they are awful against the pass. Baltimore ranks 30th in yards per pass allowed and 31st in passing yards per game allowed. In other words, Rodgers should have a field day throwing against this injury-riddled group. Green Bay averages 7.3 yards per pass, which ranks 6th in the league.
We think the books overreacted a bit by opening this total so low. Our math formula says this game will be played in the low 50's. We'll call for a Green Bay win by a score of 31-20. Take the Over and best of luck with all your Sunday action!