Best Bet for Las Vegas Bowl
We had a nice rocking chair winner on the Oklahoma Sooners last night! That makes back-to-back winners! Let's keep the hot streak alive today with our Best Bet for the Las Vegas Bowl.
Best Bet for Las Vegas Bowl: Wisconsin -7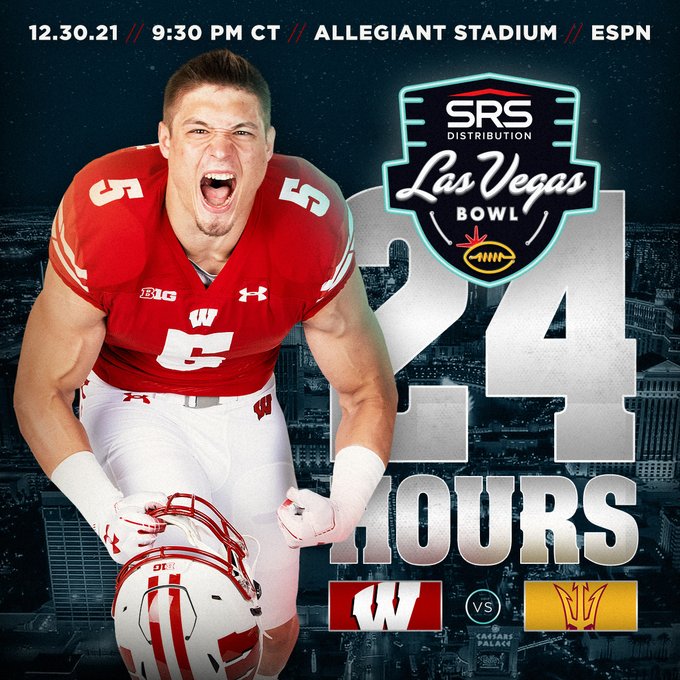 Twitter: @BadgerFootball
Get on this one as quickly as you can, as it seems to be getting steamed up pretty quickly at all online sportsbooks. We love coach Herm "You play to win the game" Edwards but this is an awful matchup for his Arizona State Sun Devils.
The Sun Devils may have an impressive statistical profile but they've lost a ton of talent since the season ended.  They are down two top RBs, 2 top CBs, a top-tier LB, and several of their big linemen. We saw last night with Oregon how losing so many players to the portal or to opt-outs can really hamper a football team.
Badgers Defense is Too Tough
Arizona State QB Jayden Daniels has a ton of talent but he hasn't faced a defense that is as nasty as Wisconsin's. The Badgers rank 1st in the country in yards per play allowed, 2nd in 3rd down conversion rate, 12th in red-zone scoring defense, and 1st in yards per rush allowed. Needless to say, Daniels could be in for a long night even though he may bust a big run or two.
Wisky also does a good job of sacking the QB, as they register a sack on 8.91% of snaps! The Sun Devils could have a hard time stopping Leo Chenal and Nick Herbig, who each have 7 sacks on the year.
Sun Devils Are Undisciplined
Another reason we love the Badgers is that they are the much more disciplined football team. Wisconsin ranks 55th in turnover margin which isn't earth-shattering but it's way better than Arizona State's 92nd ranking.
The Sun Devils also struggle with getting too many penalties. They average 77.5 penalty yards per game (128th in nation) while the Badgers are only penalized for 46.4 yards per game (39th).
Nothing swings momentum in the wrong direction like turnovers and penalties. This should equate to a huge edge for Wisconsin.
Badgers coach Paul Chryst has an excellent 5-1 record in his last 6 bowls. We see that trend continuing tonight in the Las Vegas Bowl. Our final score prediction has Wisconsin winning 27-14 so lay the points with confidence! Best of luck with all your Thursday bets!