We lost our Best Bet on the CFB Title Game last night as the Over came up just short of getting home! Overall though, it was a fun college football season and we are counting down the days until September! Need a Best Bet for CBB Tuesday? We got you covered with our breakdown of the Providence at Creighton matchup…
Best Bet for CBB Tuesday: Creighton -4.5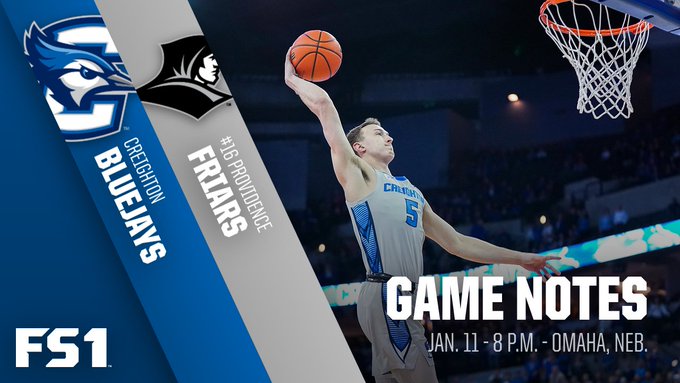 Twitter: @BluejayMBB
Readers know that we love betting on unranked teams when they are favored over ranked teams. This game fits that situation, as Providence is ranked 23rd in the country and has put up an impressive 14-2 record so far this season. Creighton is unranked but the Bluejays have a respectable 10-4 record.
This is a great spot to buy low on Creighton since they are coming off an embarrassing blowout loss to Villanova. It's hard to fault the Bluejays for that loss though, as Villanova was out for revenge after losing to Creighton just 3 weeks prior.
Providence looked great in a 10-point win over St. Johns three days ago so it's a good time to sell them at a high. The Friars have been point spread darlings so far this season, as they are 11-5 against the spread. There has to be some regression to the mean at some point for this team.
The Friars will be without guard A.J. Reeves tonight, who is dealing with a finger injury. That loss will hurt Providence quite a bit since Reeves is their third-leading scorer. Who will step up for the Friars in Reeves' absence?
The main reason we like Creighton though is that they are the much better shooting team. The Bluejays rank 15th in two-point percentage (56.9%) while the Friars only rank 162nd in that category (50.1%). It's always nice to back the better shooting team, especially on their home floor.
Creighton is also slightly better in rebounding, steals, and blocks. This team just seems to do all of the little things well.
We expect the Bluejays to get the job done tonight in front of their home fans! Lay the points and best of luck with all your Tuesday hoops action!