Best Bet for NFL Wild Card Sunday
Need a Best Bet for NFL Wild Card Sunday? Check out our breakdown of the iconic rivalry between the San Francisco 49ers and Dallas Cowboys, which kicks off at 4:30 Eastern Time on CBS.
We lost our Best Bet on the Raiders +6 yesterday as they came up just a few yards short of sending the game into OT. Let's bounce back in a big way today with our…
Best Bet for NFL Wild Card Sunday: 49ers +3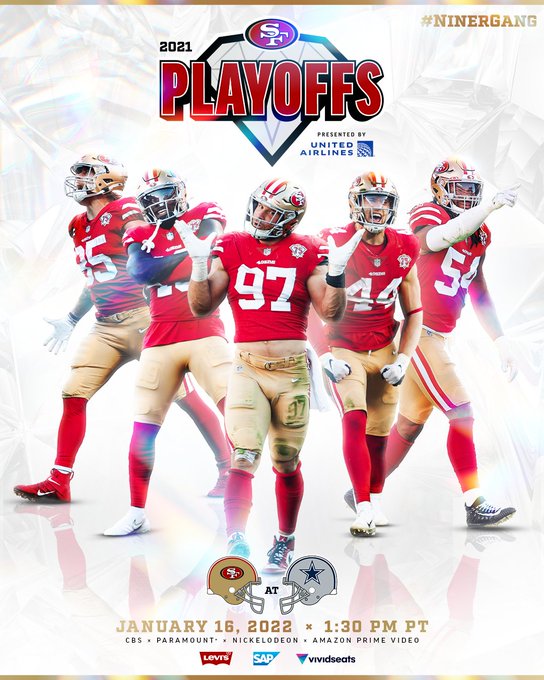 Twitter: @49ers
It's tough to fade this Dallas team, especially at home in Jerry World. However, the Niners are peaking at just the right time. We are on San Fran today for the following reasons.
1. Niners have the Better Offense
You may be shocked to learn that the Niners actually have the better offense in this matchup. Sure, Dak Prescott has had a terrific season and the Cowboys have plenty of weapons on offense. However, San Fran leads the league in yards per play, red-zone offense, and yards per pass.
The Cowboys running game has been a little bit more productive than the Niners, but not by a wide margin. We love Zeke Elliott, but he's nowhere near 100% healthy after playing hurt for the majority of the season.
2. San Fran has the Much Better Defense
The Cowboys' defense has done a great job of creating turnovers this season. Dallas leads the NFL in turnover margin per game (+0.8). All that being said though, San Fran has the better overall defense.
A quick check of the numbers shows us that the Niners' defense only allows 4 yards per carry (7th) while the 'Boys allow 4.5 (23rd). San Fran also ranks 11th in yards per pass allowed while Dallas only ranks 17th. The Niners also rank 5th in yards per play allowed while the Cowboys only rank 20th.
3. 49ers are Better at Rushing the Passer
Nick Bosa is almost impossible to block with 1 man. The former Ohio State star has a knack for getting to the QB and has racked up 15.5 sacks this season. As a team, San Fran ranks 3rd in sack rate while Dallas ranks 14th.
We could see Bosa making Prescott's life miserable for much of this game. We also think San Fran's big nose tackles, Kentavius Street and DJ Jones, will be able to contain Elliott and Tony Pollard.
We see this being a fantastic football game that could resemble some of the classic 1990s rivalry games between these two teams. We see the Cowboys winning, but only by a point or two. Take the points with the Niners! Best of luck with all your Sunday action!